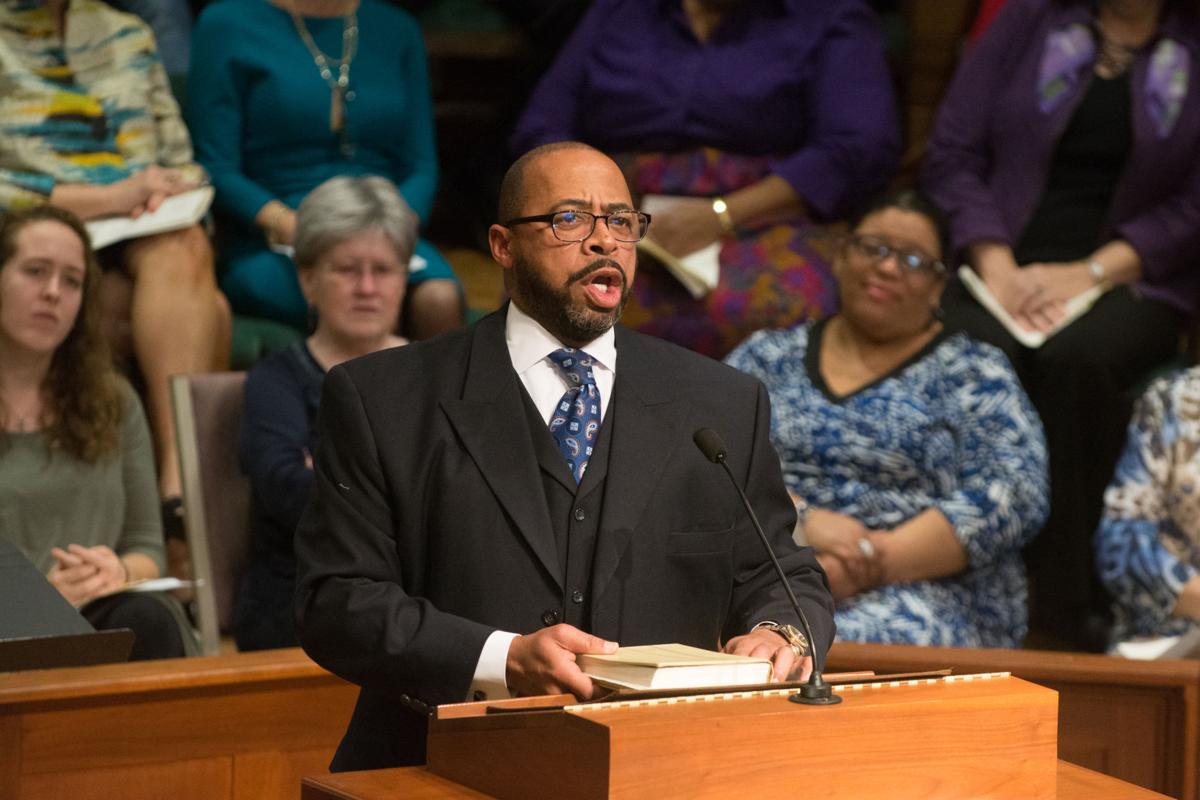 When Greater Mount Olive Missionary Baptist Church's 21st anniversary neared, there was a hitch in the celebratory plans. Its flooded sanctuary remains unrepaired.
On Sunday, Jan. 15, University Baptist Church helped make the celebration happen. In the process, it worked to repair something less tangible than brick and mortar.
When the predominantly white University Baptist hosted predominantly black Greater Mount Olive, it wasn't the first time members of the two congregations had rubbed shoulders since the devastating August flood. But, it was the first time for them to sit in the same pews and sing the same songs.
Calling the day a success is an understatement, according to Greater Mount Olive's pastor.
"It's almost as if we've been worshipping together before, and this was our first time ever coming together," said the Rev. S.C. Dixon. "They felt so much love, like they really wanted us to be here. The congregation is wondering when are we going to do it again."
And they are going to do it again, just as soon as the north Baton Rouge church can use its sanctuary again, Dixon said. The Rev. Mike Massar, University Baptist pastor, is looking forward to it.
"I really feel the need for the two races to kind of get together," Massar said. "I think it's the only way we're going to cure racism in this city, to develop some strong friendships with each other."
After helping his own church's members who had been affected by last summer's flood, Massar asked the Cooperative Baptist Fellowship for other churches UBC might be able to assist. That is how he hooked up with Dixon, whose church and community had gone underwater.
They met several times. In addition to University helping clean Greater Mount Olive's buildings and connecting Dixon with professionals to help with restoration, the two pastors began having breakfast to discuss how they could further work together.
"One of the things I really felt like after some of the issues this summer … is that churches need to develop genuine friendships between African-Americans and Anglo-Americans," Massar said. "We're not going to do it by just doing programs. We really need to develop friendships.
"One of the things the Rev. Dixon and I talked about for early on was let's find some project to do that our people can work together, and once our people begin working together and are comfortable with each other, then we can start talking about these philosophical or political issues, because we've developed friendships. That was really at the heart of what we're trying to do, and I think that's working."
University provided Christmas gifts for Greater Mount Olive's children whose homes also had been flooded. Broadmoor Baptist Church, another historically white congregation, also has helped Dixon's church after the flood.
In the meantime, True Light Baptist Church made its sanctuary available for Greater Mount Olive at 8 a.m. Sunday mornings. That enabled Dixon's church to worship, but they needed to conclude in time for the host church to hold its own services.
Aware of the upcoming anniversary, Massar asked Dixon about plans to recognize it.
"I said, 'We're just going to have worship and go home,' " Dixon said. "He said, 'Why don't you and Greater Mount Olive come over and worship with us at 10:30 and we can help you celebrate the church's anniversary?' Boom! That opened the door. I gladly said yes and mentioned it to our church, and the church went up in an uproar, excited about that invitation."
The service included a choir representing both churches singing music selected by Jesse Carrauthers, Greater Mount Olive's music minister. The next time the two churches worship together — Dixon said sanctuary repair work should start in the next 30 days — University's music minister, Benjamin Harlan, will lead the choirs.
"It was one of those moments where you thought, 'You know, this is really what church ought to look like,' " Massar said.
That won't be the end of the relationship, Dixon said.
"We have vowed to make this an ongoing journey whereby the two churches fellowship with each other, that the two churches get together to do mission work in other places that have been affected," he said. "We've vowed to partner with each other, and I'm excited about it.
"This is the beginning of something big and better to come."